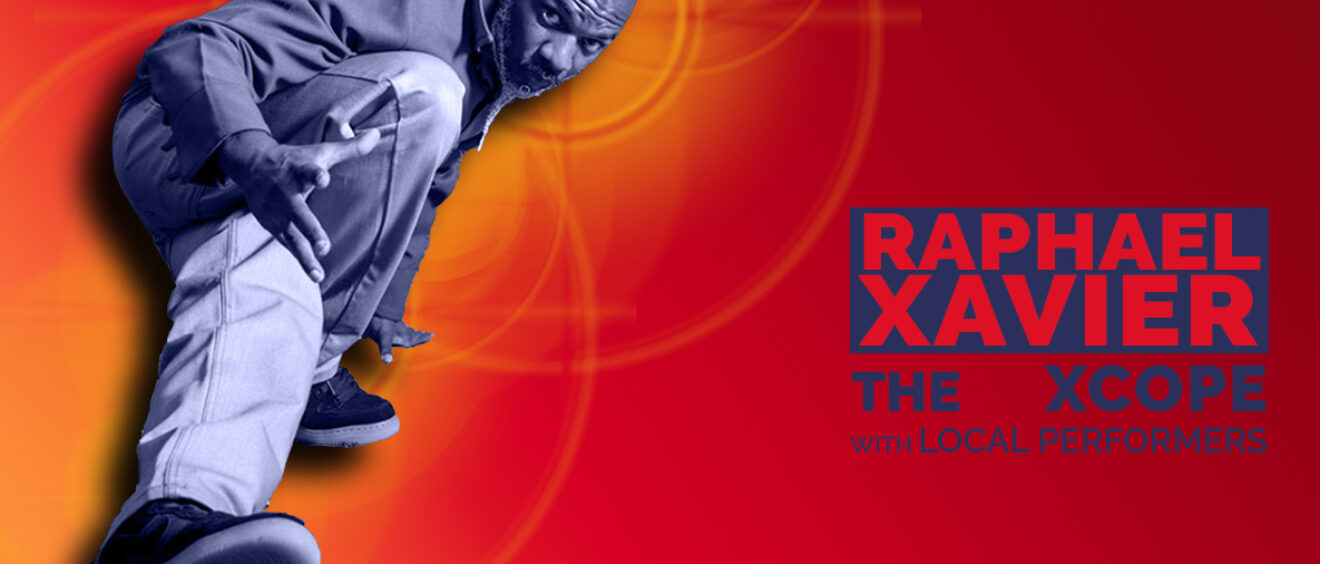 A site-specific performance combining a live musician/vocalist and electronic technology with hip hop aesthetics that include Breaking, poetry, spoken word and rap cadences with an improvisational and intuitive approach. THE XCOPE embodies the experiences of each performer to create narratives – capturing a moment in time shared by performers and audience. Xavier offers a multi-day residency option where local performers in music, dance and/or poetry audition, rehearse and perform alongside Xavier to create a one-of-a-kind event with deep community engagement.
THE XCOPE Creative Residency with Local Performers
Learn how to build your own creative toolbox! The Creative Residency with Local Performers for Raphael Xavier's THE XCOPE, gives local performers an opportunity to learn and work under the direction and mentorship of Xavier. The residency begins with local performers auditioning to be a part of the public performances of THE XCOPE. Local performers may include hip hop and contemporary dancers, spoken word artists and musicians. Once selected, participants will engage in a multi-day residency and rehearsal. Performers will learn how to tap into and build their "creative toolbox,"working collaboratively with fellow performers while contributing their unique talents, under the creative direction of Xavier, for a one-of-a-kind public performance of THE XCOPE.
Auditions can take place in person or can be done through Audition tapes. Audition tapes are submitted ahead of time. Raphael selects the performers based on submissions, there was no in-person auditioning required.
Raphael Xavier (Choreographer, Breaker) 
Originally from Wilmington, Delaware, Raphael Xavier (pronounced ZAH-vee-ay) has been a Breaking practitioner since 1983. As he has forged an exceptional approach to improvisation, Brenda Dixon Gottschild deemed Xavier, 'A fine rhythm technician who transforms a bravado dance style into an introspective meditation.' Extensive research in the Breaking form has led to the creation of Ground-Core, a Somatic dance technique that gives the practitioner a better understanding of the body within all dance forms. His solo and ensemble choreographic dance works have been performed worldwide. Past works have been performed at REDCAT Los Angeles, Kennedy Center in Washington DC, ART (American Repertory Theatre in Boston), New York Live Arts, the Dance Center at Columbia College Chicago and Painted Bride in Philadelphia, PA among others. He currently lives in Philadelphia and is a Professor of dance at Princeton University and University of Texas Austin. 
Tim Motzer (musician). After two decades of world touring, nine solo soundscape albums, and stunning collaborations including over 100 albums of credits, Tim Motzer continues to "traverse manifold territories in music" (Guitar Player magazine). Tim is widely known for his distinct textural acoustic-electro guitar voice utilizing looping, bowing, electronics, and prepared techniques. He has collaborated with numerous musical luminaries including David Sylvian, Burnt Friedman, Jaki Liebezeit, poet Ursula Rucker, King Britt, Jamaaladeen Tacuma, Vernon Reid, David Torn, Markus Reuter, and Pat Mastelotto, among others. Since 2016, Tim has toured the world playing prestigious venues and jazz festivals with Bandit65, an improvising trio he co-leads with guitarist Kurt Rosenwinkel and drummer Gintas Janusonis; their most recent release, Searching the Continuum (Heartcore Records), received a rare five-star review from J.D. Considine in Downbeat Magazine. His film/TV credits include the hit HBO series True Blood as well as Miami Vice, a major motion picture directed by Michael Mann. As an in-demand, solo live composer/improviser in the world of modern dance, Tim co-creates alongside master choreographers at Princeton University and the University of the Arts. He also has a longstanding collaboration with legendary choreographer Manfred Fischbeck, as part of Group Motion Dance Company. For the past 20 years, Tim has brought his dynamic, eclectic array of musical projects together under his own 1k Recordings imprint, which has over 40 releases and counting. He composes, records, and produces his own solo and collaborative work, along with projects for other artists. For more info about 1k, please visit 1krecordings.bandcamp.com
Social Media Handles
Raphael on Instagram – @viazeen
https://www.pentacle.org/blog/artist/raphael-xavier/ 
Subscribe for exclusive updates, offers, and services.
Keep Up with Hook Arts Media
Donate to Hook Arts Media
Support Red Hook Fest
Hook Arts Media produces the annual Red Hook Fest, bringing world-class artists to our Red Hook community at no cost to the audience. As a small nonprofit, this festival is neither simple nor inexpensive to produce. Please donate to help bring our beloved festival back for years to come! Just $5.75/month can provide MetroCards for a dozen participating artists.